The Dauin Dive Resort Team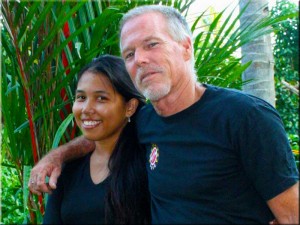 Mike Feeney, PADI Instructor will be your enthusiastic host and lead you through the most exciting underwater and jungle adventures available. Before completing his PADI Instructor course in 2004 on the reefs of Dauin, just a short drive south of Dumaguete, Mike spent many years as a DiveMaster in the San Francisco Bay Area assisting with dive courses and dive trips before bringing his lifetime of outdoor adventure experience to his new base in the Philippines. As soon as he arrived in the country a few years ago, Mike learned the local reefs inside out while freelancing as a dive instructor for a local resort and also managing a dive shop in Moalboal, Cebu.
Joe Ann
Joe Ann assists Mike in managing the Resort and handles all those little details so you don't have to worry about them. Joe Ann graduated from Negros Oriental State University (NORSU) with a Bachelor of Sciences degree in Hotel and Restaurant management. Immediately after she completed this intensive management program she put her skills to use by dreaming up the friendly café and coffee shop where we base our dive and adventure operations.
For both Mike and Joe Ann, launching Mike's Dauin Dive Resort is the culmination of their dream to own a personalized dive center and a family style resort. Nothing makes them happier than sharing the unique and amazing experiences of the Philippines with you.
Mike and Joe Ann can promise that they will do everything possible to make your visit here the most memorable outdoor adventure you've ever had and since your safety is the first priority you'll be in good hands.
JM
JM is guarding the Resort. Nothing escapes his watchful eyes. If you are looking for the real boss at Mike's, you better speak directly to JM.
Miley Kate
The Resort Team would not be complete without a Resort-Princess. No doubt where this title goes.