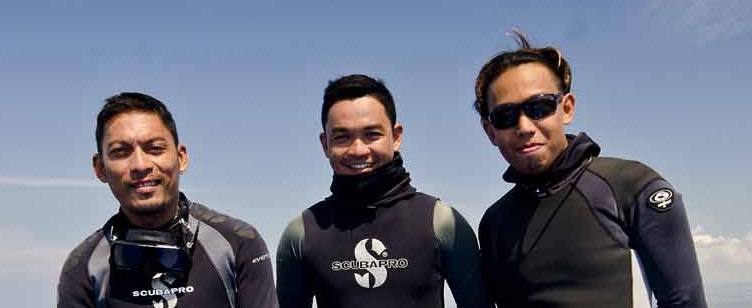 Critters come in all shapes and sizes.  Here at Mike's we have three very unusual creatures unique to the waters of Dauin and Apo.  Together they are known as the Three Mosquitoes, and are a charming and engaging trio.  Come and see them only at Mike's Dauin Dive Resort!
---
The Marlon (Guidus superfasticus)
The Marlon frequently can be found out ahead of the dive group, far off the reef, looking for exciting creatures. If you can keep up, you may be rewarded with a rare sighting of a Spotted Eagle Ray or even a shark. That's not to say he can't also be found scouring the corals and overhangs finding tiny Critters to delight the diving guests.
The Marlon can also be quite silly, especially after a bottle or two of Red Horse beer. Just don't ask him to sing.
---
The Ace (Guidus gwapo)
The Ace takes great pride in his appearance, frequently changing his hairstyle to suit his surroundings.
An expert at finding all kinds of Marine Critters, the Ace is also very patient and understanding with new, recently qualified divers. Especially the pretty ones.
---
The Gabby (Guidus guitaricus)
The Gabby has amazing microscopic vision, able to pick out the most minute of Critters from a very long distance away. A native of Apo Island, there's not a patch of coral he doesn't know, or a nudibranch he isn't on first name terms with.
The Gabby also likes to entertain, and is often seen with a guitar, in the company of the other Mosquitos, singing his little heart out.  Come and listen for yourselves here at Mike's!
---
http://mikes-beachresort.com/wp-content/uploads/2017/08/DSC0502_ed_72_crop.jpg
308
752
Mikes Management
http://mikes-beachresort.com/wp-content/uploads/2015/05/Mikes-Dauin-Beach-Resort-Logo.png
Mikes Management
2018-03-10 07:55:32
2018-04-01 05:29:21
20. The Three Mosquitoes