PADI Scuba Diving Courses at Mike's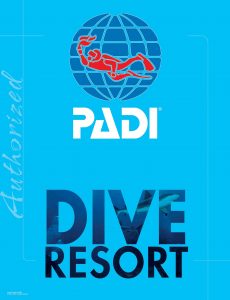 Our relaxed, professional courses are run by our accredited PADI Instructors and Divemasters.  Whether you are taking the plunge for the first time, learning some news diving skills, refreshing your diving knowledge, or contemplating a career in recreational Scuba Diving, we have the perfect solution for you. Scroll down for a full list and explanation of the various courses available at Mike's.
All courses are available In Resort, Online or through PADI's eLearning portal, and our prices include training materials and certification.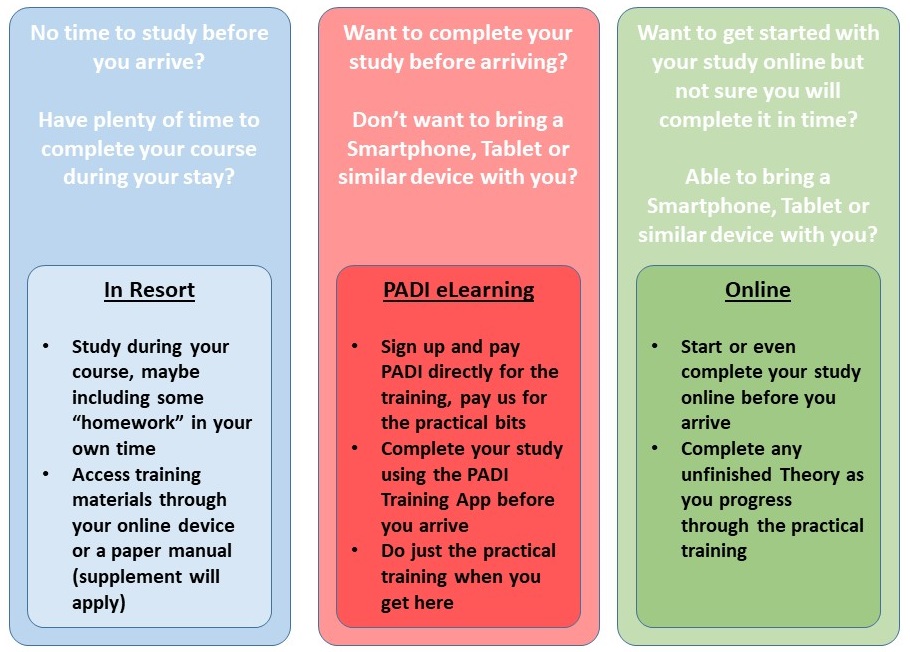 In Resort – you will learn from online materials, so an electronic device such as a Smart Phone, Tablet, iPad or laptop will be required, although we have some paper manuals to refer to for some courses.  Should you prefer to learn from your OWN paper manual, a supplement will be applied to your course price. This course option is best for those who don't feel they will have time to complete any necessary theory work in advance.
Online – you will learn from the same online materials as if you are In Resort, but we collect a non-refundable deposit in advance to cover the cost of online materials, and provide you with online access to the training materials.  This allows you to make a start and possibly complete the Theory before you arrive.
PADI eLearning – you will learn through PADI's eLearning platform, purchasing the eLearning product directly from PADI, and then pay the price listed on this page in the Resort for the practical elements of your chosen course. (*Prices shown are only available when purchasing eLearning from PADI using the link below to register your course with us).  This course option is ideal for those wanting to minimise the time spent in the resort on the course, and those with sufficient time to complete the theory work online before arrival.

Students may be able to combine courses with diving trips to Apo Island for an additional charge – please contact us for more details.
** Course durations are approximate and cannot be guaranteed.
Important Medical Information
Everyone wishing to take a scuba diving course or experience must be able to answer NO to all the medical questions in the Diving Medical Statement form. If you can't say NO to all the questions, you will need to get a doctor to sign the second page to say that you are fit to dive. You will need to bring this with you.
*Additional fees may apply for third dives, night dives, Apo Island supplements and equipment (if not specified).
Please Contact Us for more details.